As families throughout the Keystone Region prepare for the start of a new school year, having reliable and affordable Internet is important – whether at home or through community resources. Through our recent network expansions as well as Project UP, Comcast's comprehensive initiative to advance digital equity, here are some of the ways families can connect at little to no cost for back-to-school:
Affordable Internet Options Through ACP and Internet Essentials
Comcast is proud to participate in the Federal Government's Affordable Connectivity Program (ACP), which provides eligible low-income households with a credit of up to $30 per month ($75 per month on Tribal lands) toward their Internet and/or mobile service. Thanks to ACP, eligible Comcast customers can get home Internet through Comcast's Internet Essentials, which costs $9.95/month, or Internet Essentials Plus, which costs $29.95/month, at no cost once the federal credit is applied. Internet Essentials customers can also add a line of unlimited 5G cellular data ($45) through Xfinity Mobile for as little as $24.95/month after the ACP benefit is applied.
Internet Essentials is the nation's largest and most comprehensive broadband adoption program, launched in 2011. Since inception, Comcast has connected a cumulative total of more than 10 million people from low-income families to low-cost, high-speed Internet at home, including 1,724,000 in Pennsylvania.
For more information about ACP and to see if you qualify, visit us online or at one of our Xfinity Stores or ACP awareness events, where you can speak to an Xfinity Expert, like Derek.
Community Resources Through Comcast Lift Zones and Our Partners
Across Pennsylvania, Comcast works with community partners to support 190 WiFi-connected Lift Zones, which are designed to complement our Internet Essentials program and help connect students, families and community members to the Internet so they can fully participate in educational opportunities and the digital economy.
Working with our network of nonprofit partners and city leaders, Lift Zones provide a free, high-speed WiFi solution in spaces like nonprofits, community centers, gyms, parks and recreation facilities and even small businesses.These locations offer not only free Internet connectivity, but also access to hundreds of hours of educational and digital skills content to help families and site coordinators navigate online learning.
To find a Lift Zone near you, visit our online search tool.
Additionally, Comcast continues to expand its efforts to close the digital divide by partnering with local organizations, such as Tec Centro in Lancaster, to promote Digital Navigator programs. Digital Navigators are individuals affiliated with trusted community organizations who are trained to help people access the Internet, use devices and acquire digital skills. Once their training is complete, these Digital Navigators educate community members in a wide range of digital awareness and literacy skills. Additionally, they help residents learn about affordable Internet options, such ACP. Comcast also partnered with the Berks County Digital Equity Coalition, including United Way of Berks County, to facilitate a conversation around the needs in the county, as well as the benefits and challenges associated with establishing a digital navigator program.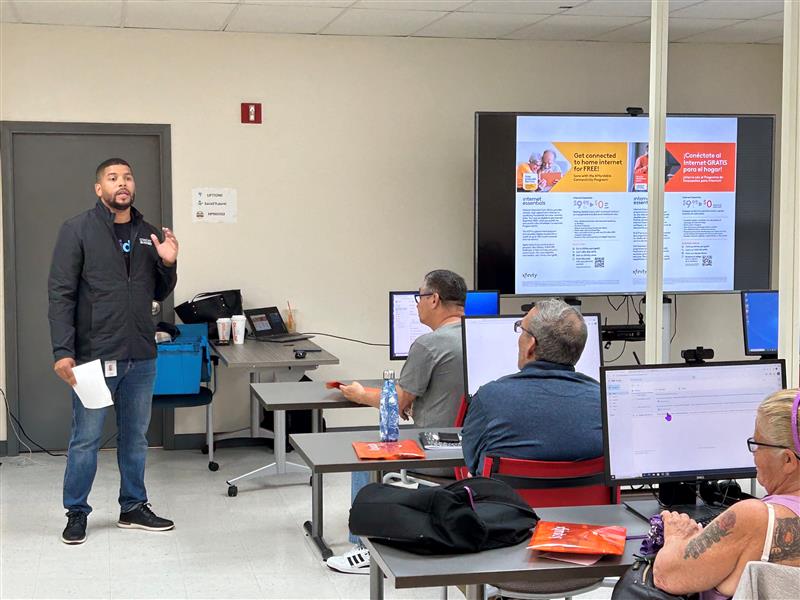 "Digital equity is an essential component to improving the lives of those most in need," said Ashley N. Chambers, Senior Vice President of Community Impact for United Way of Berks County. "Digital technologies impact every aspect of education, business and life, and United Way of Berks County is proud to partner with Comcast to advance digital equity in our community to help Berks Countians develop knowledge and skills for greater success."

Our Comcast team members are also passionate about supporting our digital equity efforts:
"Bilingual Comcast employees recently volunteered to provide Spanish-language support for our Computer Literacy Program," said Marlyn Barbosa, Chief Workforce Development Officer for Tec Centro, which is also a Lift Zone location. "This is a great example of Comcast's commitment to empowering and educating our communities in one of today's most essential skills – technology."
To learn more about these initiatives under Project UP, visit https://corporate.comcast.com/impact/project-up.
Network Expansions Through the Xfinity 10G Network
Comcast continues to improve and expand its network to deliver reliable, secure and fast connectivity to new and existing customers. We recently announced our expansion of the Xfinity 10G Network to more than 1,100 homes and businesses in Dauphin County, Adams County, Perry County and Sullivan County. These areas will have access to Comcast's full suite of services, including Xfinity residential broadband speeds up to 1.2 gigabits per second and Comcast Business speeds up to 100 Gbps.
Residents and businesses can visit Xfinity.com/MyTown, call 1-800-XFINITY or visit their local Xfinity Store, including York, Carlisle, Hanover and Lebanon to see if they are eligible for service today.