Recently, we joined the Dauphin County Commissioners to break ground for a $4.1 million project to extend Comcast's Xfinity 10G Network to nearly 500 homes and businesses in the Millersburg Area, Williams Valley, Upper Dauphin Area and Halifax Area school districts.
Construction has started in these northern Dauphin County communities and is expected to be complete in Spring 2024.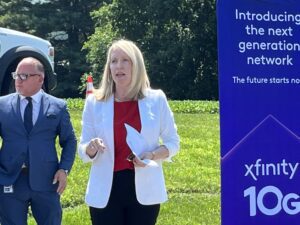 "Comcast already serves much of the county, so this is a wonderful opportunity to expand our offerings to additional properties that were previously unserved. Residents have shared excitement to the surveyors, engineers and work crews that are already working in the community to connect even more residents to the power of the Internet," said Marcie Callan, Comcast's director of government affairs for its Keystone Region.
Homes and businesses in these municipalities will benefit from the expansion project: Lykens, Mifflin, Upper Paxton, Reed, Wayne, Jefferson, Halifax, Washington, and Jackson townships.
The expanded network will bring Xfinity residential broadband speeds up to 1.2 gigabits per second and Comcast Business speeds up to 100 Gbps to roughly 460 locations.
"This public-private partnership is an important step in closing the digital divide in Dauphin County," Commissioners Chairman Mike Pries said. "The COVID-19 pandemic's effects on online learning and remote work put a bright spotlight on why internet connectivity matters."
The commissioners have heard from residents and school officials frustrated by their lack of reliable internet connection.
"Offering broadband internet to our neighbors north of Peters Mountain will bring parity to digital access throughout Dauphin County. Even as students have returned to the classroom and workers have returned to business sites, academic curricula and many work tasks remain very digital focused," Commissioner Chad Saylor said.
"When we talk about infrastructure, we need to remember that it encompasses more than roads and bridges. Infrastructure in the 21st century includes the ability to quickly connect with others when needed," Commissioner George P. Hartwick III said.
Dauphin County is funding 75 percent of the project, with Comcast committing to the remaining project cost.