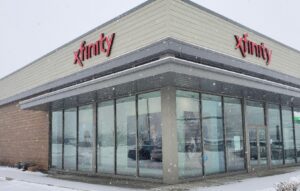 Comcast continues to invest in our fiber-rich network to build, evolve, and expand it to meet the needs of our customers. We are currently expanding Xfinity and Comcast Business services into areas of Luzerne County through December 2022. Click here to learn when new service areas are activated in Wilkes-Barre, Wilkes-Barre Township, Pringle, Courtdale and Larksville.
Xfinity Stores
Pennsylvania
100 Chippewa Towne Center
Beaver Falls, PA 15010
Get directions
264 Westminster Drive
Carlisle, PA 17013
Get directions
Chambersburg Crossing
935 Norland Ave.
Chambersburg, PA 17201
Get directions
1128 Commerce Blvd.
Dickson City, PA 18519
Get directions
824 East Pittsburgh Street
Greensburg, Pa 15601
Get directions
North Point Plaza
1150 Carlisle Street
Hanover, PA 17331
Get directions
Colonial Commons
5094 Jonestown Road
Harrisburg, PA 17109
Get directions
Hershey Square
1154 Mae Street
Hummelstown, PA 17036
Get directions
The Shoppes at Belmont
1600 Fruitville Pike
Lancaster, PA 17601
Get directions
Cedar Crest Square
1792 Quentin Road
Lebanon, PA 17042
Get directions
4020 William Penn Highway
Monroeville, PA 15146
Get directions
8961 State Route 30
North Huntingdon, PA 15642
Get directions
597 Washington Pike
Pittsburgh, PA 15017
Get directions
Cube Creative Space
5880 Baum Blvd.
Pittsburgh, PA 15206
Get directions
560 Clairton Blvd.
Pittsburgh, PA 15236
Get directions
Fox Chapel Plaza
1123 Freeport Rd.
Pittsburgh, PA 15238
Get directions
The Pointe at North Fayette
219 Summit Park Drive
Pittsburgh, PA 15275
Get directions
Richland 315
1150 PA-315
Plains Township, PA 18702
Get directions
4840 McKnight Rd.
Ross Township, PA 15237
Get directions
1801 N. Atherton St.
State College, PA 16803
Get directions
Siena at St. Clair
100 Siena Dr.
Suite 120
Upper St. Clair, PA 15241
Get directions
22 Old Mill Blvd
Washington, PA 15301
Get directions
The Waterfront
266 West Bridge Street
West Homestead, PA 15120
Get directions
1952 East Third Street
Williamsport, PA 17701
Get directions
2777 Papermill Road
Wyomissing, PA 19610
Get directions
2801 East Market Street
York, PA 17402
Get directions
West Virginia
740 Venture Drive
Morgantown, WV 26508
Get directions
The Highlands
215 Cabela Drive
Triadelphia, WV 26059
Get directions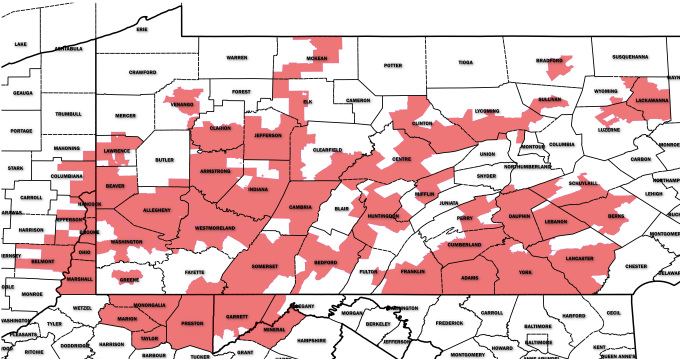 Comcast Keystone Regional Headquarters
15 Summit Park Drive
Pittsburgh, PA 15275
Number of Employees: 4,000
If you're looking for Comcast's national newsroom, you can click here.
If you're looking for information about Xfinity or information about Comcast Products and Services, you can click here.
If you're looking for our national blog, Comcast Voices, you can visit that site at blog.comcast.com.
If you are looking for your channel lineup, find it here.
Outdoor WiFi Hotspots: 5,790
About Comcast Corporation:
Comcast Corporation (Nasdaq: CMCSA) is a global media and technology company with three primary businesses: Comcast Cable, NBCUniversal, and Sky. Comcast Cable is one of the United States' largest video, high-speed internet, and phone providers to residential customers under the Xfinity brand, and also provides these services to businesses. It also provides wireless and security and automation services to residential customers under the Xfinity brand. NBCUniversal is global and operates news, entertainment and sports cable networks, the NBC and Telemundo broadcast networks, television production operations, television station groups, Universal Pictures, and Universal Parks and Resorts. Sky is one of Europe's leading media and entertainment companies, connecting customers to a broad range of video content through its pay television services. It also provides communications services, including residential high-speed internet, phone, and wireless services. Sky operates the Sky News broadcast network and sports and entertainment networks, produces original content, and has exclusive content rights. Visit www.comcastcorporation.com for more information.
About Comcast Cable:
Comcast Cable is one of the nation's largest video, high-speed Internet and phone providers to residential customers under the XFINITY brand and also provides these services to businesses. Comcast has invested in technology to build an advanced network that delivers among the fastest broadband speeds and brings customers personalized video, communications and home management offerings.  Comcast Corporation (Nasdaq: CMCSA) is a global media and technology company.  Visit www.comcastcorporation.com for more information.
About the Comcast Foundation:
The Comcast Foundation was founded by Comcast Corporation in June 1999 to provide charitable support to qualified nonprofit organizations. The Foundation primarily invests in programs intended to have a positive, sustainable impact on their communities. The Foundation has three community investment priorities – expanding digital literacy, promoting community service and building tomorrow's leaders. Since its inception, the Comcast Foundation has donated nearly $195 million to organizations in the communities nationwide that Comcast serves. More information about the Foundation and its programs is available at www.comcast.com/community.
About Comcast Business:
Comcast Business offers Ethernet, Internet, Wi-Fi, Voice, TV and Managed Enterprise Solutions to help organizations of all sizes transform their business. Powered by a next-generation, advanced network, and backed by 24/7 technical support, Comcast Business is one of the largest contributors to the growth of Comcast Cable. Comcast Business is the nation's largest cable provider to small and mid-size businesses and has emerged as a force in the Enterprise market; recognized over the last two years by leading industry associations as one of the fastest growing provider of Ethernet services.
For more information, call 866-429-3085 or visit Comcast Business. Follow on Twitter @ComcastBusiness.
About NBCUniversal:
NBCUniversal is one of the world's leading media and entertainment companies in the development, production, and marketing of entertainment, news, and information to a global audience. NBCUniversal owns and operates a valuable portfolio of news and entertainment television networks, a premier motion picture company, significant television production operations, a leading television stations group, world-renowned theme parks, and a suite of leading Internet-based businesses. NBCUniversal is owned by Comcast Corporation.
To learn more about the different areas of NBCUniversal (Television, Film, Digital Media, Parks and Resorts), please visit http://corporate.comcast.com/our-company/businesses/nbcuniversal.