We're proud to be a part of the communities where we live and work. As part of our investment in York for 2023 – just one of the many communities in Comcast's Keystone Region – we renovated the local Xfinity Store within the York Mall Shopping Center, which now features an interactive design and provides a destination for visitors to experience the complete line of Xfinity products and services.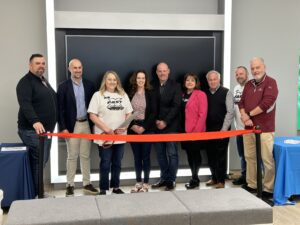 The York County Economic Alliance helped us celebrate the re-opening by inviting local business owners, State Representatives Wendy Fink and Joe D'Orsie, and York County Commissioner Doug Hoke to join us as we presented a $2,500 donation to the United Way of York County. The organization's work helps to remove barriers to the financial stability of families in York County communities and aligns with Project UP, Comcast's $1 billion commitment to advance digital equity and economic mobility through programs and community partnerships that connect people to the Internet and open doors for the next generation of innovators, entrepreneurs, storytellers and creators.
"Our York Xfinity Store location remains an important part of our ongoing effort to provide an excellent customer experience," said Greg Wells, Vice President, Sales & Marketing for Comcast's Keystone Region. "A welcoming space to learn more about our products in an expansive, thoughtfully designed store is what customers expect from a technology leader like Comcast."
Explore Innovative Products
Xfinity Stores are designed so consumers can see our products – powered by the Xfinity 10G Network – in action.
Xfinity Mobile – Purchase new mobile phones, devices and accessories and choose a flexible data plan – Unlimited or By the Gig – that fits your unique needs.
Xfinity Internet – Learn about how the nation's largest and most reliable network offering speeds up to 10 Gbps, the most advanced WiFi technology carrying three times more bandwidth, and powerful WiFi Boost Pods that extend coverage throughout your home combine to power streaming, gaming, videoconferencing and more.
Xfinity X1 – Explore our video platform – the ultimate entertainment experience – and try the Xfinity Voice Remote.
Xfinity Home – Learn how Xfinity Home combines the best of home security and automation into one simple experience and purchase smart home accessories.
Residents can also stop by Xfinity Stores to learn about and receive assistance enrolling in the federal government's Affordable Connectivity Program (ACP), which provides eligible low-income households with a credit of up to $30 per month ($75 per month on Tribal lands) toward their Internet and/or mobile service – including all Xfinity Internet plans.
Engage with a Local, Dedicated Team of Experts
Our highly trained and knowledgeable sales consultants are available at Xfinity Stores to provide demonstrations and help new and existing customers sign up for services, learn more about their current services or devices, manage accounts, return or acquire equipment and more.
Visit Our Newest Location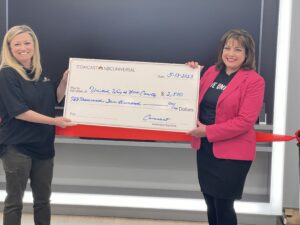 With this new location, there are now 30 Xfinity Stores throughout Comcast's Keystone Region, including those in Hanover, Harrisburg and Hummelstown and Lancaster.
Visitors can drop in – a time-saving queuing system makes it possible to explore the store instead of waiting in line – or go online to www.xfinity.com/support, click "Visit an Xfinity Store" and make an appointment.
The renovated Xfinity Store is located at 2801 East Market Street. It is open seven days a week. For directions and store hours, click here.
Learn About Business Solutions
"Not only is Comcast a great community partner, but a true partner for small businesses," said Casey Nixon, Director of Membership & Business Development, York County Economic Alliance.
Comcast Business Internet customers can visit an Xfinity Store to get started with Comcast Business Mobile. Our retail team will show you the latest devices, help you trade in your device and help you transfer your service.