Our Comcast employees live and work in the communities we serve, and every day, they show their passion for bringing our customers the best products, network and customer experience. 
One of those employees is Derek, who leads a team of sales professionals and Community Account Representatives throughout Comcast's Keystone Region, focused on serving families who live in apartment buildings, condominiums and mobile home parks throughout Pennsylvania, Ohio and West Virginia. In addition to visiting housing developments, Derek and his team also attend events like the Ephrata Fair, Lititz Chocolate Walk, Fall Fling in Hershey and La Fiesta Italiana in Scranton. 
Since joining Comcast in 2008, Derek has become an 'Xfinity expert' so he can show customers how to get the most value out of their Xfinity services, including Xfinity Mobile, Xfinity Internet, Xfinity X1, Xfinity Home and Xfinity Voice. His team also answers questions and helps customers manage their account, upgrade or swap equipment, pay a bill and more. 
"If a customer wants to learn about the X1 Sports App, I'm their guy," said Derek. "It's one of my favorite features when I'm watching a game; I can watch my favorite football team and track soccer and baseball scores using the Xfinity Voice Remote without missing any of the action."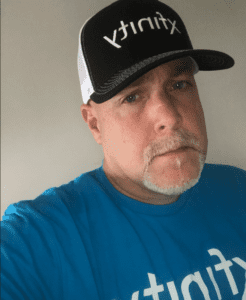 Derek is proud of the work that his team is doing in local communities to share information about Comcast's Internet Essentials program and to help guide families through the Affordable Connectivity Program sign-up process. Internet Essentials is the nation's largest and most comprehensive  Internet adoption program for low-income households, providing low-cost, high-speed Internet service for $9.95 per month. The program also includes the option to purchase an internet-ready computer and access to free digital literacy training. Since 2011, Internet Essentials has connected a cumulative total of more than 10 million people to the Internet at home, including 56,000 throughout Dauphin County, most for the first time.  
The federal Affordable Connectivity Program (ACP) is another important step in helping people connect to the Internet. Qualified households participating in ACP receive a credit of up to $30/month towards Internet and Mobile services.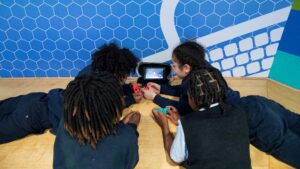 Derek's work is part of Comcast's longstanding commitment to helping people connect, and stay connected, to the Internet. And when asked what inspires him, his team was one of the first groups of people that came to his mind. "I know that their commitment to digital equity and providing a superior customer experience is crucial in order for us to break down barriers to broadband adoption so that more people can get online," said Derek. 
Comcast's commitment to digital equity, or Project UP, includes a $1 billion commitment over the next 10 years to reach tens of millions of people through programs and community partnerships with the opportunities and resources they need to succeed in an increasingly digital society. From connecting people to the Internet and accelerating economic mobility, to opening doors for the next generation of innovators, entrepreneurs, storytellers and creators, together we are shaping a future of unlimited possibilities.   
Derek has seen his wife and three children experience those unlimited possibilities through connectivity. "My oldest son, Bryce, has overcome many obstacles and inspires me every day," he said. "His favorite product is Xfinity Internet because he loves gaming and our speed and reliability help him be an unbeatable player."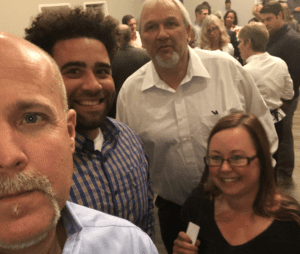 He and his wife are also fans of Xfinity Mobile, which allows them to customize their plan to the individual needs of everyone in the family. With mobile plans starting at $15 a month, no contracts, and nationwide 5g included at no additional cost, it's the most recommended mobile service. In addition to savings, Xfinity Mobile also offers the fastest overall mobile service on the largest most reliable 5G network nationwide. 
Derek is active in the MyAbilities Network, Black Employee Network and Young Professionals Network Employee Resource Groups (ERGs) in Comcast's Keystone Region. Open to all employees, Comcast's ERGs are voluntary, employee-led organizations dedicated to developing the careers of our employees, contributing to community service and building an inclusive and collaborative workplace. Participating in ERGs is one way for Derek to mentor teammates and meet employees from other parts of the business.   
"At Comcast, I've grown as a leader but also have the opportunity to support the next generation," said Derek. "I'd encourage anyone with a willingness to learn and grow to consider open positions at Comcast that may be right for them."