Adding to its investment in Lackawanna County, Comcast is expanding its smart, fast and reliable fiber-rich network to more than 2,100 residents and businesses in Jermyn and Mayfield Boroughs. Comcast has started providing its full suite of services, including Xfinity residential broadband speeds up to 1.2 gigabits per second and Comcast Business speeds up to 100 Gbps, to its first new customers in Jermyn and Mayfield and the project is scheduled to complete in 2023.  
"Because Internet connectivity is not a luxury, but rather a necessity for modern living, I am pleased that Comcast has made Lackawanna County a priority as it expands," said Pennsylvania State Senator Marty Flynn (D-Lackawanna/Luzerne). "I support all projects that improve the lives of people in Northeastern Pennsylvania; with an impact of more than 2,100 additional homes and businesses, this project does just that." 
"We are always looking to improve the services provided to our residents and businesses and look forward to the choice that Comcast will offer our community, providing access to a range of TV and Internet offerings," said Mayfield Mayor Al Chelik. "This expansion gives our citizens an opportunity to choose what is best for their needs." 
"This expansion of Comcast's network is exciting news for our residents," said Jermyn Borough Council President Frank Kulick. "They will now have more choice when it comes to cable and Internet services."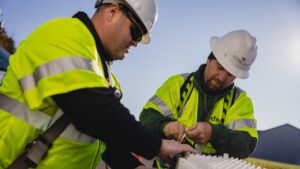 From 2019-2022, Comcast invested $2.4 billion in the state of Pennsylvania to improve and expand its network and continue delivering reliable, secure, and fast connectivity to its customers. Comcast's expansion to Jermyn and Mayfield Boroughs is the company's latest investment in central and eastern Pennsylvania. In Luzerne County, the company is continuing work on its network expansion in the city of Wilkes-Barre, and has completed expansions in Kingston, Pringle, Larksville and Courtdale. Comcast also recently completed network expansions to parts of Lancaster, Columbia, Northumberland and Montour counties as well as in Eagles Mere and Laporte in Sullivan County, where it is also currently working on an additional expansion south of those locations. Comcast is also expanding in Honey Brook Borough, Elverson, Amity, Exeter and St. Lawrence in Berks County.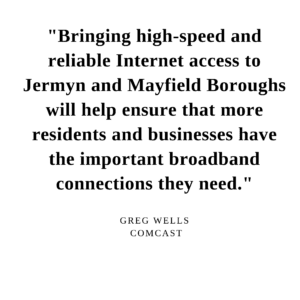 "We are proud to further our investment in Lackawanna County," said Greg Wells, Vice President of Sales and Marketing for Comcast's Keystone Region. "Bringing high-speed and reliable Internet access to Jermyn and Mayfield Boroughs will help ensure that more residents and businesses have the important broadband connections they need for their educational, professional and personal lives."  
Jermyn and Mayfield residents and businesses can visit Xfinity.com, call 1-800-XFINITY or visit our Xfinity Store at 1128 Commerce Boulevard in Dickson City to see if they are eligible for service today. Experts at the Xfinity Store can help with product demonstrations, answer any questions new customers may have and can help local businesses schedule an informational meeting with the Comcast Business sales team. 
Residential customers in these areas will be able to take advantage of Xfinity's full suite of Internet products, including supersonic WiFi technology from powerful gateways, xFi Advanced Security, Xfinity Mobile and the ultimate entertainment with Flex, a free 4K platform for Internet-only customers that seamlessly delivers streaming content.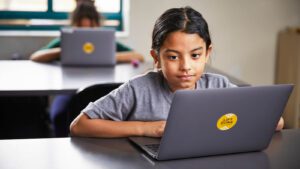 Comcast also is proud to participate in the federal government's Affordable Connectivity Program (ACP), which provides eligible low-income households with a credit of up to $30 per month ($75 per month on Tribal lands) toward their Internet and/or mobile service. Thanks to ACP, eligible Comcast customers can get home Internet through Comcast's Internet Essentials or Internet Essentials Plus at no cost once the federal credit is applied. Internet Essentials customers can also add a line of unlimited 5G cellular data ($45) through Xfinity Mobile for as little as $24.95/month after the ACP benefit is applied. 
For local businesses, Comcast Business offers a suite of connectivity, communications, networking, cybersecurity, wireless and managed solutions to help organizations of different sizes prepare for what's next. Powered by the nation's largest Gig-speed broadband network, and backed by 24/7 customer support, Comcast Business is the nation's largest cable provider to small and mid-size businesses and one of the leading service providers to the Enterprise market. Comcast Business has been consistently recognized by industry analysts and associations as a leader and innovator, and one of the fastest growing providers of Ethernet services. 
Comcast is deeply committed to advancing digital equity in the communities it serves. The company has installed two Lift Zones in Lackawanna County at the NEPA Youth Shelter and Greater Scranton YMCA, providing free WiFi service to help these community centers promote digital learning. Lift Zones are part of Project UP, Comcast's comprehensive, 10-year, $1 billion commitment to help build a future of unlimited possibilities and the continuation of the company's long history of giving back to communities where it provides service and where its employees live and work.