Continuing its investment in Luzerne County, Comcast has completed the expansion of its smart, fast and reliable fiber-rich network to more than 1,800 residents and businesses in the borough of Larksville, and continues to make progress on its expansion to the city of Wilkes-Barre, which now serves nearly 6,000 addresses.  
These new customers in Luzerne County now have access to the full suite of Xfinity residential and Comcast Business services, including residential broadband Internet speeds of up to 6 gigabits per second (Gbps) for residences and up to 100 Gbps for businesses. 
"We are proud to continue investing in Luzerne County," said Toni Murphy, Senior Vice President of Comcast's Keystone Region. "Through our network expansion work, we're able to bring our reliable network to more homes and businesses and provide them with the speed, security and functionality that keeps them connected."  
Residents and businesses in these areas can sign up for service by clicking this link, clicking "Enter Address" near the top center of the page and entering their address or by visiting our Xfinity Store at 1150 PA Route 315 in Plains Township, two miles northeast of Mohegan Sun Arena at Casey Plaza. The experts at the Xfinity Store can help with product demonstrations and any questions new customers may have and can help local businesses schedule an informational meeting with the Comcast Business sales team. Prospective customers can also call 1-800-XFINITY to inquire about service, or ask about the federal government's Affordable Connectivity Program, which provides eligible households with up to $30/month toward their Internet and mobile service.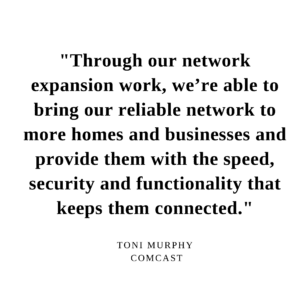 Residential customers in these areas will be able to take advantage of Xfinity's full suite of Internet products, including: 
Supersonic WiFi:

Advanced WiFi technology from

powerful gateways

capable of delivering gigabit speeds to support the ever-increasing number of connected devices in homes.

 

Ultimate Security:

Help loved ones stay safe and secure online with

xFi Advanced Security

, included at no extra cost with an xFi Gateway. Advanced Security helps protect customers' devices from billions of cyberthreats a year, and customers can add xFi Complete to extend that security on the go. 

 

Powerful Connection:

The newest Gateway provides a more reliable connection for all connected devices. And with xFi Complete, get wall-to-wall WiFi coverage throughout the home, with an xFi Pod included if recommended.

 

Unprecedented Control:

xFi

, a digital dashboard to control the home WiFi network that includes Advanced Security protecting every device on the network from malware and security threats.

 

Xfinity Mobile

: A mobile service built for the way consumers use mobile today, with the Internet at the core of the experience,

Xfinity Mobile

can save customers hundreds a year on their mobile bills.

 

Ultimate Entertainment:

Flex

, a free 4K platform for Internet-only customers that seamlessly delivers streaming content.

 
For local businesses, Comcast Business offers a suite of connectivity, communications, networking, cybersecurity, wireless, and managed solutions to help organizations of different sizes prepare for what's next. Powered by the nation's largest Gig-speed broadband network, and backed by 24/7 customer support, Comcast Business is the nation's largest cable provider to small and mid-size businesses and one of the leading service providers to the Enterprise market. Comcast Business has been consistently recognized by industry analysts and associations as a leader and innovator, and one of the fastest growing providers of Ethernet services.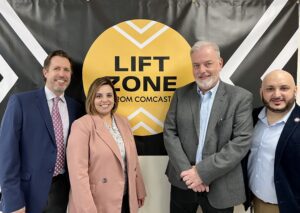 From 2017-2021 alone, Comcast invested nearly $20 billion to evolve and grow its national network and built 50,000 new route miles of fiber into its network. This includes expansion to many new areas in central and eastern Pennsylvania, including Colerain Township, Courtdale, Ephrata, Kingston, Lititz, Pringle and multiple municipalities in Berks, Columbia, Montour, Northumberland and Sullivan counties. And Comcast customers have been able to enjoy speed increases at no additional cost, the most recent of which was announced earlier this year.  
Comcast is also deeply committed to advancing digital equity in the communities it serves. The company has installed two Lift Zones in Luzerne County at the Lehman Sanctuary in Shavertown and the Greater Pittston YMCA, providing free WiFi service to help these community centers promote digital learning. Lift Zones are part of Project UP, Comcast's comprehensive, 10-year, $1 billion commitment to help build a future of unlimited possibilities and the continuation of the company's long history of giving back to communities where it provides service and where its employees live and work.