At a recent event at Halifax Township Building, Dauphin County announced a project to expand high-speed broadband Internet access for northern Dauphin County communities, providing Comcast's full suite of services, including Xfinity residential broadband speeds up to 1.2 gigabits per second and Comcast Business speeds up to 100 Gbps.
Alka Patel, Vice President of Government and Regulatory Affairs for Comcast's Keystone Region participated in the event with Dauphin County Commissioners Mike Pries, Chad Saylor and George P. Hartwick, III and Dr. David R. Hatfield, Superintendent of Halifax Area School District at the Halifax Township Building to share plans for the $4.1 million project.
The broadband expansion project will offer high-speed Internet options to 460 homes and businesses in Lykens, Mifflin, Upper Paxton, Reed, Wayne, Jefferson, Halifax, Washington, and Jackson townships, as well as Halifax Area, Millersburg, Susquenita, and Upper Dauphin Area school districts. Engineering work is expected to commence soon, and physical construction of the network, which will bring speeds of up to 1.2 gigabits per second, is planned for 2023.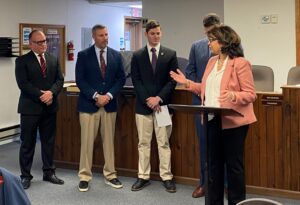 "Expanding the broadband grid has been a priority for quite some time – it was just a matter of finding the right partner," Mike Pries, Chairman of the Dauphin County Commissioners, said. "This project will improve quality of life north of the mountain."
Alka Patel, Vice President of Government Affairs and Community Impact for Comcast's Keystone Region, said, "We are proud to join the Dauphin County Commissioners in this effort to continue our investments in rural Pennsylvania communities. We are committed to connecting as many students, families and businesses as possible to our smart, fast and reliable fiber-rich network."
"We saw and heard about the challenges students had finding a fast connection for their schoolwork," Commissioner Chad Saylor said. "Some families resorted to driving many miles to a café or business."
"Having easy access to fast, secure Internet service should not be a luxury," Commissioner George P. Hartwick said.
Comcast's expansion to northern Dauphin County is the company's latest investment in central Pennsylvania. Comcast recently completed network expansions to parts of Lancaster, Columbia, Northumberland and Montour counties as well as in Eagles Mere and Laporte in Sullivan County, where it is also currently working on an additional expansion south of those locations. Comcast is also expanding in Honey Brook Borough,  Elverson, Amity Township, Exeter and St. Lawrence.