The pandemic has intensified many of the challenges that women already faced in the workplace – bringing a near-immediate impact on women's employment as many, especially those with young children, considered leaving the workforce or downshifting their careers to provide support at home.
While COVID-19 continues to affect women and their plans for future jobs and opportunities, it also represents an opportunity for businesses to look for ways to invest in and build more flexible workplaces and nurturing cultures.
At Comcast, our employees have always been at the heart of everything we do; and the pandemic was no exception. As the needs of our workforce have continued to change, so too has our support for our employees. We have offered flexible work options, such as additional paid time-off to care for family members. We also expanded our benefits to include options like back-up childcare, professional counseling, an employee COVID-19 resource center, student loan counseling, stress management, access to a confidential health and well-being messaging app, a virtual workplace resource center and more.
We take pride in being an employer of choice – and have been recognized for our efforts to support employees. Our Harrisburg, Lebanon and York offices received a national designation for Best Workplaces for Commuters in 2019 and we have been named a Pittsburgh Post-Gazette Top Workplace in 2019 and 2020 and a Pittsburgh Business Times Best Place to Work in 2019. As the workplace dynamic further shifts, we will continue to offer a variety of benefits and resources to employees to support their physical, emotional and financial wellbeing.
Over the coming weeks, we will look at some of the incredible women who make up Comcast Business' workforce—our team of professionals that help businesses of all sizes, from neighborhood pizza shops to large-scale enterprises, to prepare for what's next. We'll hear from project managers and account executives, sales support specialists and engineers about their experiences over the past year-plus, how they rose to the challenges and adapted to new circumstances. These stories are a testament to the power of working together and remaining agile and supportive as employees face unprecedented challenges and circumstances.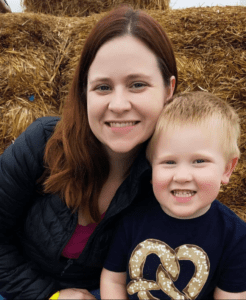 Katie Lerew, Tech Product Sales Support Engineer, Harrisburg
Katie has been with Comcast for five years and currently serves as a Client Solutions Engineer. Previously, she worked in a Comcast Business support role, but she made the transition to engineering in October. Her position entails facilitating the sales process for technologically advanced products like Comcast Business' SecurityEdge cybersecurity solution. She says Comcast has provided the equipment she needs to be successful in her role. And in her words, beyond tools and support, "Comcast has given me the flexibility to adjust my schedule."
Katie has a son who requires extra in-home services, and she has appreciated the extra time and flexibility to support him and accommodate his needs. Katie counts herself as no exception among the many other parents who have felt new stresses during the past month, but credits her company and supervisors for the open communication and understanding that allow her to be there for her family.
In speaking of her work team, Katie notes she misses the interactions she previously had with colleagues in person. "You have to schedule video time with your coworkers instead of just bumping into them at the water cooler. But we have made the most of the opportunity and learned even more about each other as a result! Our employee resource groups have helped us all connect by planning virtual book clubs, dance parties, game nights and cooking demonstrations."
As Katie transitioned to this new normal, she helped customers do the same. Many prospective customers have shown interest in demonstrations for work-from-home technology. She has also seen an uptick in interest in Business VoiceEdge as it boosts agility for businesses that anticipate maintaining their remote workforces.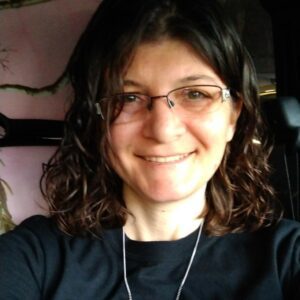 Katie Gallagher, Project Manager, Pittsburgh
Katie, who started with Comcast Business five years ago, serves in a project manager role supporting sales and business operations.  She has been instrumental in system and tool adoption, as well as facilitating process improvements for her team. Prior to joining Comcast, she worked from home for a communication technology company based in New York. As a result, she had established a home office space which helped ease her transition to remote work many months ago.
She, too, has been very appreciative of the support Comcast has given employees and the additional pandemic-related benefits they have provided, such as flexible work hours, extra time off to care for family, and the COVID-19 resource center that offers employees a wealth of valuable information.
Katie has also appreciated the extra time she has had at home, as she is a mother of two children. "Being there for my kids was a huge bonus. When they first started online learning, they had a lot of questions and it was helpful to have me there to lend a hand," said Gallagher.
Katie Lerew and Katie Gallagher are just two of the employees at the heart of Comcast Business. Stay tuned for more profiles featuring the exceptional women who make up our workforce at: https://centralpa.comcast.com/