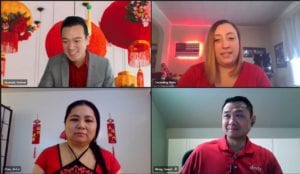 Employees throughout Comcast NBCUniversal celebrated 2021 Lunar New Year recently with two weeks of festivities ending with an all-day event to celebrate the launch of Comcast's Keystone Region APA (Asian Pacific American) employee resource group.  The event featured Comcast guest speakers, including Toni Murphy, Dennis Mathew, and Joe Wong; as well as in-house talent with Ai-Lin Chen's Chinese music performance and Chang Shu's arts and crafts demonstration.
Thanks to Comcast APA partners in the California, Greater Chicago, Houston, Mountain West, and Washington Regions as well as APA chapters at Comcast's headquarters and NBCUniversal, a lunchtime cooking show and virtual Asian trivia content were the most-attended programs of the day.
APA aims to foster Asian and Pacific Islander American talent at Comcast by providing its members with professional development, community outreach, cultural enrichment, leadership, and networking opportunities, all in service of creating and sustaining a diverse, equal and inclusive work environment.
"Growing up in Asia, this is actually the first time I learned so much about these instruments from home," said Joe Tsai. "Thank you, Ai-Lin for sharing!"
Learn more about Comcast's employee resource groups and how they foster an inclusive workplace.