Comcast is committed to amplifying diverse voices, advancing equity and fostering inclusion. August is National Black Business Month, a time to recognize and celebrate the vital role Black-owned businesses play in our local communities and overall economy.
For the last two and a half years, small businesses have been dealing with the ongoing impact of the pandemic and the economic repercussions that resulted. In particular, Black-owned businesses declined by 41% during the first few months of the pandemic versus just 21% for the general population according to the National Bureau of Economic Research. That's one of the reasons why in late 2020 we launched Comcast RISE, which stands for "Representation, Investment, Strength and Empowerment," to invest in the success of these critical businesses by providing valuable and practical support and the resources necessary not just to survive, but thrive.
Through Comcast RISE, over 30 small businesses in Comcast's Keystone Region have received consulting, media and creative production services or technology upgrades from Comcast Business and Effectv, the advertising sales division of Comcast Cable, to date. This includes Juanita Harris of Grooming By Juanita in Wyoming, Pa. who received a technology makeover, including Comcast Business Internet service and tablet computers for his business. "Maintaining a small business during the pandemic was a challenge," she said. "Comcast's support has been so helpful to our success and will support us as we grow our four-legged clientele."
It also includes, Dele Olaewe of Pagoda Apparel in Reading, who also received a technology makeover. "As a minority small business owner, you're constantly grinding to make the business survive," he said. "Comcast's RISE program supports mom-and-pop-run businesses and this technology makeover will help Pagoda Apparel to make needed technology upgrades and stay competitive."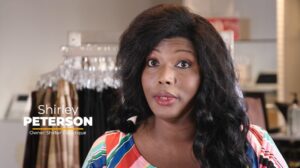 Comcast RISE is part of Project UP, the company's comprehensive initiative to advance digital equity and help build a future of unlimited possibilities. As part of Project UP, Comcast NBCUniversal has committed $1 billion over the next 10 years to reach tens of millions of people through programs and community partnerships that connect people to the Internet, advance economic mobility, and open doors for the next generation of innovators, entrepreneurs, storytellers, and creators. For additional information on Project UP and our other digital equity initiatives, including Internet Essentials, Lift Zones and more, visit https://corporate.comcast.com/impact/project-up.
Nominations for the program are currently being accepted through October 14, 2022, and we encourage you to apply at ComcastRISE.com.