As Don graduated from high school in the early 80s, a military-designed network changed its packet-switching protocol, creating the Internet. Since then, Don has seen how the Internet has become an important part of our lives, necessary for work, school and health services.
Don has spent a career as a cable technician in northeastern Pennsylvania but is most proud of the 14 years he has worked as a supervisor leading a team in Wilkes-Barre.
"Being able to take what I have learned in the field over the years and help my team grow is a proud legacy," said Don. "Comcast helped me to develop leadership skills, which I have used to help our technicians deliver an exceptional customer experience."
Not only does Don hear how customers enjoy Xfinity Internet, TV and mobile services, but his wife and three sons use Comcast products every day. Comcast's expansion into Wilkes-Barre, Pringle, Courtdale and Larksville gives Don an opportunity to tell Luzerne County residents about these and other Xfinity products to which they now have access.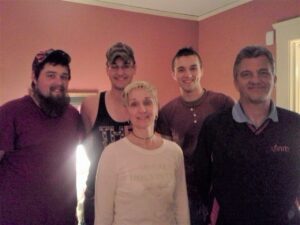 "My wife can't live without the Xfinity X1 DVR service, and my son needs our Internet for gaming, social media and streaming."
While Don is enthusiastic about the products he and his team help bring to customers, he's also proud of Comcast's commitment to local communities and helping close the digital divide through efforts like the federal Affordable Connectivity Program (ACP). ACP provides eligible low-income households a credit up to $30 a month toward the cost of Internet service ($75 per month for households on qualifying Tribal lands). Customers who qualify can apply ACP credits to any tier of Xfinity Internet, including Internet Essentials, Comcast's 11-year-old broadband adoption program and the largest of its kind in the nation.
Customers can see and experience Xfinity's suite of products and learn more about ACP at Xfinity Stores throughout the region, including Dickson City and Plains Township. In addition to Xfinity Internet, the ACP credit can be used for Xfinity Mobile, giving customers the ability to save money on their connectivity needs inside and out of the home. They can also ask our experts about their current services or devices, learn how Xfinity apps make it easy to manage their account, sign up for all Xfinity services, pay bills at kiosks, return or acquire equipment and purchase accessories for mobile devices like cases, screen protectors and power supplies as well as smart accessories for the home. Customers can also go online, click "Visit an Xfinity Store" and make an appointment.
For more information about Comcast's expansion into Luzerne County, click here.