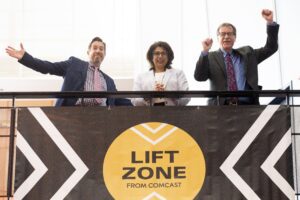 Representatives from Comcast recently joined officials from Whitaker Center for Science and the Arts and PNC Bank to announce the grand opening of the new 7,000-square-foot PNC Innovation Zone at Whitaker Center, one of Comcast's "Lift Zones."
The PNC Innovation Zone combines Whitaker Center's existing 40-foot-tall Select Medical Digital Cinema with a newly constructed world-class purposeful gaming studio, designed by leading educational design architects Crabtree, Rohrbaugh & Associates in collaboration with entertainment and technology giant Clair Global. This ground-breaking, first-of-its-kind facility will capitalize on the massive popularity of video games and esports while offering educational, experiential learning in science, technology, engineering, arts, and math (STEAM) to children eight years and older.
To power the PNC Innovation Zone, Whitaker Center has also partnered with Comcast to become one of the region's largest Lift Zones offering free, robust Wi-Fi to all guests. Lift Zones provide free Wi-Fi access outside the home in neighborhood community centers as part of Project UP, Comcast's comprehensive, 10-year, $1 billion commitment to help build a future of unlimited possibilities.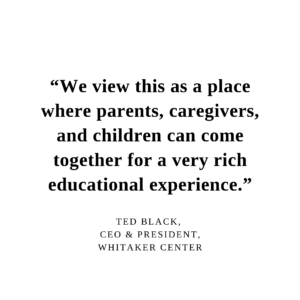 "Comcast is proud to provide connectivity to all those who spend time in this incredible new space at Whitaker Center," said Alka Patel, Vice President of Government and External Affairs for Comcast's Keystone Region. "We look forward to partnering to provide a truly distinctive opportunity to promote digital equity and STEAM education."
With more than 90% of children playing video games and the explosive growth of esports worldwide, Whitaker Center and its partners saw an opportunity to offer students and their families a cool space to reconnect, share passions for gaming and esports and learn about coding, art and the technology embedded in video games. The PNC Innovation Zone will host weekly activities, led by certified educators, including creative design coding, esports competitions, STEAM programs for girls and technology-based day camps.
"Gaming is the breadcrumbs that will lead families and children here," said Ted Black, president and CEO of Whitaker Center. "We view this as a place where parents, caregivers, and children can come together for a very rich educational experience."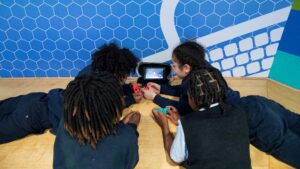 As part of Project UP, Comcast NBCUniversal has committed $1 billion over the next 10 years to reach tens of millions of people through programs and community partnerships with the opportunities and resources they need to succeed in an increasingly digital society. From connecting people to the Internet and accelerating economic mobility, to opening doors for the next generation of innovators, entrepreneurs, storytellers and creators, together we are shaping a future of unlimited possibilities.
For additional information on Project UP and our other digital equity initiatives, including Internet Essentials, Lift Zones and more, visit corporate.comcast.com/impact/project-up.
For more information about PNC Innovation Zone at Whitaker Center and a complete listing of educational STEAM programs and camps, visit https://www.whitakercenter.org/pnc-innovation-zone.