Comcast is committed to making our products, technology, and experiences accessible to the widest possible audience, and opening new doors to independence for people with disabilities. We're proud to support partners who share our focus on serving disabled members of our local communities and since 2007, Comcast has broadcast the Huntingdon PRIDE telethon that raises funds to support accessibility-focused organizations in Huntingdon County, Pennsylvania. This year's four-day telethon in March was the most successful, raising $195,000 for programs serving persons with disabilities caused by birth defects, injury, disease, learning and developmental disorders, aging and other disabling conditions. 
Comcast's Senior Network Manager, Dan Cramer, has volunteered for the Huntingdon PRIDE telethon since it launched in 1972. "We called it 12 for 12. It was broadcast on cable Channel 12, aired for 12 hours with a goal to raise $1,200. We hit our goal and the event took off." 
In addition to Dan, many Comcast employees come together to make this event possible, including Comcast's Digital Media Services Team, External Affairs, Engineering and Business Operations.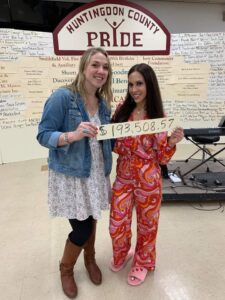 "Comcast is proud of our decades-long partnership with Huntingdon Pride," said Alka Patel, Vice President of External and Government Affairs for Comcast's Keystone Region. "Providing this broadcast allows PRIDE to direct all funds raised toward important social service programs in Huntingdon County."  
Comcast's investment in Central Pennsylvania includes the installation of 100 WiFi-connected Lift Zones across the region as well as technology and marketing services to 12 local businesses owned by people of color – including Black, Indigenous, Hispanic and Asian Americans – through Comcast RISE.  Comcast recently expanded Comcast RISE's eligibility to all women-owned businesses and encourages business owners to apply before the June 17 deadline. 
In addition, more than 600 families in Huntingdon County have signed up for Internet Essentials, the nation's largest, most comprehensive and most successful broadband adoption program in America. Since August 2011, Internet Essentials has connected more than eight million low-income individuals, from two million households, to the Internet at home, most for the first time in their lives, including more than 170,000 people in Pennsylvania. 
As part of Comcast's ongoing commitment to keeping families connected, Xfinity is proud to participate in the federal government's Affordable Connectivity Program (ACP), which provides eligible households a credit of up to $30/month towards Internet and mobile services. Both new and existing customers can apply this credit towards Xfinity Internet, Internet Essentials and Xfinity Mobile services. 
Internet Essentials is part of Project UP, Comcast's $1 billion commitment to reach tens of millions of people over the next 10 years with the tools, resources, and skills needed to succeed in a digital world. Click here for more information about Comcast's comprehensive connectivity program for low-income Americans.