Providing WiFi in more than 1,000 community spaces across the country, including nearly 200 in Pennsylvania, Comcast's award-winning Lift Zone program is helping to connect low-income families to the Internet so they can fully participate in educational opportunities and the digital economy.
At Tec Centro, a division of the Spanish American Civic Association (SACA) that provides bilingual education and skills training to low- to moderate-income individuals, the robust WiFi coverage Comcast is providing will support workforce programs and the greater community including families, students, and adults.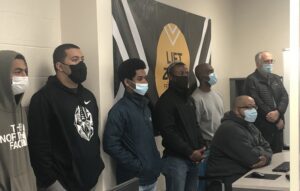 On Friday, March 25, members of the SACA board and leadership, Tec Centro staff and representatives from Comcast's Keystone Region unveiled Comcasts WiFi-connected Lift Zone in Tec Centro's building located at 651 Laurel Street in Lancaster.
"Internet access offers a life-changing pathway for Lancaster County workers to   prepare for the jobs of the future," said Alka Patel, Vice President of External and Government Affairs for Comcast's Keystone Region. "Comcast equipped Tec Centro with a Lift Zone to advance their workforce program and provide students and community members access to the training and support needed for growth and economic mobility."
Tec Centro offers multi-pronged, state of the art services that reach more than 1,200 people annually. In collaboration with area community colleges and training programs,  Tec Centro's core services provide education and skills training to those who are unemployed and under-employed, and families living in poverty. These programs provide low-cost, convenient training for in-demand jobs that offer competitive salaries, often with benefits, and include opportunities for future growth. Careers include allied health occupations, construction trades, culinary arts, commercial and industrial building maintenance, and bank teller/customer service representatives. All participants receive career counseling and placement assistance. Additionally, Tec Centro's employment case management can be used by anyone seeking employment, regardless of current employment status.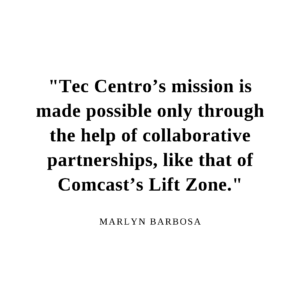 Tec Centro expects its various workforce training programs to grow through the Comcast Lift Zone, now that access to reliable internet is available.
"Tec Centro's mission is made possible only through the help of collaborative partnerships, like that of Comcast's Lift Zone. This is a powerful example of a business using its resources and expertise to come alongside Tec Centro to amplify the community's access to and effectiveness of our workforce development programs," adds Marlyn Barbosa, Tec Centro's Program Director.
Lift Zones complement Comcast's Internet Essentials program, which, since 2011, has connected more than 10 million people in America to broadband Internet at home, including approximately 44,000 people in Lancaster County. Lift Zones and Internet Essentials are part of Project UP, Comcast's comprehensive initiative to advance digital equity and help build a future of unlimited possibilities.